Pull-out Kitchen Taps with Sprays
If you love to cook then you'll love our range of kitchen taps with sprays. Whether you choose a pull-out tap with rinsing spray or a tap with professional spray, our choice of designs will satisfy even the most discerning chefs.
Pull-out & Pull-down Kitchen Tap Sprays
Pull out kitchen taps with rinsing sprays transform the kitchen sink into a multifunctional work zone.
Our kitchen tap collections fuse perfect ergonomics with award-winning design. With a diverse range of designs and material finishes to choose from, finding a pull-out kitchen tap to complement your kitchen decor and meet your functional requirements is easy with GROHE.
What is the difference between a pull-out spray and a pull-down spray?
Both offer the same features and versatility. The difference is in the action required to extract the hand-held spray from the tap spout.
In general, if the kitchen tap has a straight spout, you need to 'pull out' the spray. If the spout points downwards, then you 'pull down' to use the spray.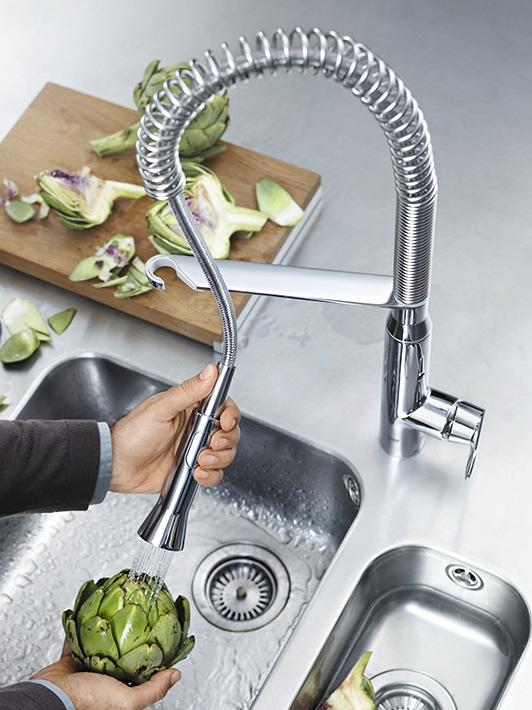 Kitchen taps with professional sprays
For home chefs who are as serious about design as they are about product features, a kitchen tap with a professional pull-down spray is the latest 'must-have' style for designer kitchens.
K7 tap with professional spray
Admired for its semi-professional styling, the GROHE K7 collection is a modular range of kitchen taps.
The eye-catching collection comprises every conceivable combination of tap and spray: including a tap with pull-out rinsing spray, professional spray and a side spray.
Anti-limescale nozzles
The professional spray and pull-out spray on our K7 kitchen taps feature GROHE SpeedClean nozzles.
Just wipe the surface of the spray to clear any limescale deposits.
GROHE K7 kitchen tap with professonal spray
Pull-out Kitchen Taps with Rinsing Sprays
From rinsing salad leaves and delicate fruit to filling pots and pans, a dual-spray tap is an indispensable work tool.
Two sprays to choose from
Our pull-out taps feature two sprays: a wide, rinsing spray and a regular spray.
Easy switching between regular spray and wide spray
On kitchen taps with a large rinsing spray, a rocker switch enables you to alternate between the wide spray and the regular mousseur spray. On smaller sprays, simply turn the water off to revert back to the regular flow.
Increase your work area
GROHE pull-out sprays have a reach of 40 - 50 cm depending on which tap design you choose.
Enduring looks. Reliable performance
All GROHE pull-out kitchen taps feature a robust steel hose to ensure pristine appearance no matter how often you use it. A spring below the sink guides the hose back into position after use.
Eurodisc Cosmopolitan kitchen tap with rinsing sprays
Kitchen Taps with Pull-out Mousseurs
If you prefer the architectural look of L- and U-shaped spouts, but still want to benefit from the functionality of a pull-out spray, then chose one of our kitchen taps with a pull-out mousseur.
In contrast to a pull-out rinsing spray, which features two sprays, a pull out mousseur simply extends the reach of the end of the tap spout and features a single mousseur spray.
The tap spout is split either at the tip or halfway (depending on the design), to allow the end to be pulled out.
When the pull-out mousseur is not in use, it is virtually impossible to tell that the tap includes this practical feature.
Concetto kitchen tap with pull-out mousseur
Recommended product ranges